We all know Instagram is the perfect platform for reaching potential customers. But tracking its performance isn't easy. Keep reading to find out how to track Instagram traffic using Google Analytics.
Instagram is the perfect tool for top of the funnel marketing. It's a great way to reach current and potential customers, engage with them directly, and drive them from your feed to your website.
This can massively increase your website traffic stats and even help you generate more leads and sales.
Remember: If you have over 10,000 followers, you can use links in your stories to push people to a particular page. All accounts can add a static link to your bio on your profile page.
While there's no doubt that Instagram is a beneficial tool to have in your marketing arsenal, proving that your Instagram traffic is affecting your overall performance is tricky.
While there's no doubt that Instagram is a beneficial tool to have in your marketing arsenal, proving that your Instagram traffic is affecting your overall performance is tricky.
How to track traffic from your Instagram posts
There are a few sources for traffic in Instagram. We'll work you through each to understand how to track traffic across each.
Track clicks to your link in bio
If you only use your link in bio to drive traffic, then you can have a quick glance at how many people are clicking onto your site directly in Instagram.
Firstly, remember, you'll need a business account to be able to view this data. If you have a business account already, then head to your insights section on your profile.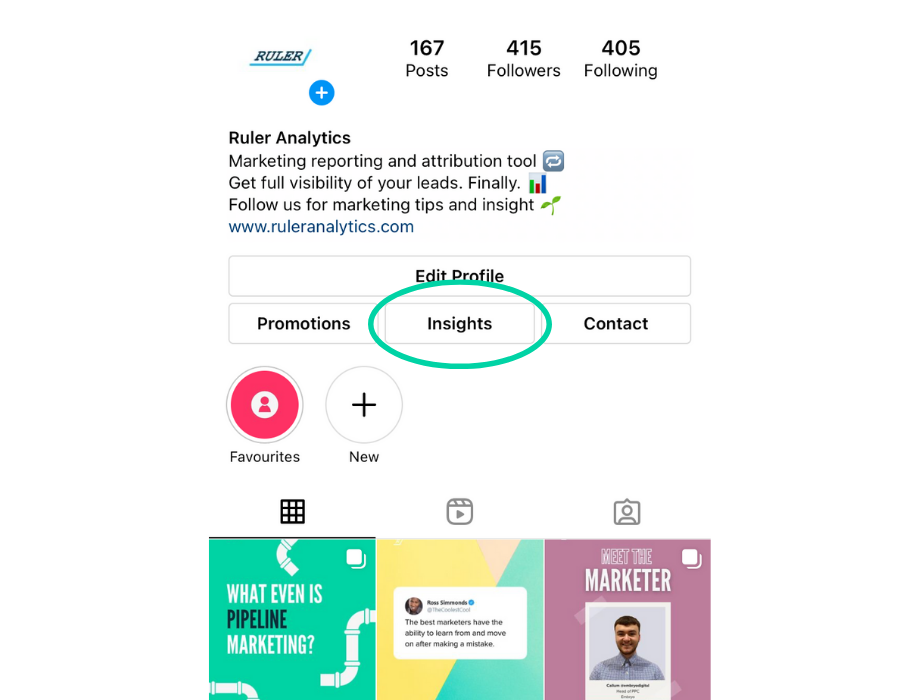 From there, select 'see more' under 'Accounts Reached' to view all engagements with your profile and your content.
In this section, you will find, 'Website Taps' where you can see how many people have clicked on the link in your bio.
Track clicks from your Instagram stories
If you have over 10,000 followers on your Instagram profile, then you'll have unlocked the ability to share links in your stories.
But what about the impact on traffic from this source? You can view the individual click performance on your stories within the insights section on Instagram.
Head to insights again. This time, scroll down to where your stories are. Click through and then toggle the metric on the top left to link clicks.
Then, you'll be able to see how many clicks each story has driven. Of course, if you don't have any links then it'll say zero.
But there are complications when it comes to getting this data in Google Analytics. And while you could report on traffic as we've shown above, it's going to take a long time and lack insight.
Tracking your Instagram ads
Instagram is part of the Facebook family. And Facebook has seen extreme changes to its tracking and attribution following the iOS 14.5 update.
Want to make sure you can track all of your clicks and sales influenced by Instagram? Read our guide to how the iOS update can be minimised here.
For the TL:DR version, marketing attribution tools like ours allow you to track your Instagram ad traffic and attribute it accurately.
Learn how Ruler works by booking a demo with our team.
Using Google Analytics to track Instagram Traffic
While Instagram goes part way to give you your traffic data, it's only half of the story. So you can see clicks, but what does that actually mean?
These users could click and click right off. Or, they could convert straight away into a sale. How are you working that out?
Ordinarily, Google Analytics would be able to support you with website tracking. But sometimes, there are difficulties accurately tracking Instagram traffic in Google Analytics.
Why doesn't Instagram traffic show up in Google Analytics?
Instagram traffic doesn't show up in Google Analytics because when you open a link from the mobile application, Instagram opens the link directly on your mobile browser. This results in the traffic being categorised into the 'direct' category of your Google Analytics dashboard.
While you might see some traffic being attributed to your Instagram account, it won't be accurate.
So, how can you track Instagram traffic to better understand the platform's impact on your bottom line?
Tracking your Instagram traffic with UTM tracking
The most reliable way to track your Instagram traffic is to add UTM tags. This doesn't just work for Instagram, it works for any external source that you use to drive visitors to your website.
UTM tagging allows you to set details against a URL, such as the source e.g. social, and the campaign. This allows you to segment your data in Google Analytics and view specific link clicks for one URL.
Related: Read our complete guide to tracking link clicks for your website with Google Analytics to understand how to set up every URL.
With the UTM tagging, you can make sure that Google Analytics logs traffic exactly as you want it to and that it's accurate 100% of the time.
Here's a quick guide on how to set up a tracked link using Google's URL builder.
First, head to Google's URL builder.
From there, add your URL into the box called 'Website URL'. For campaign source, you'll want to highlight the referrer. For example, is it coming from Facebook, Google, or another particular website?
Then, select your medium. This refers to how the user arrived at your link. For example, organic, social, paid etc.
Next, add in your campaign name. This will allow you to group web performance based on a particular campaign name.
You then have campaign terms and content to break down differences between your links further. For example, if you were using this link on a paid post, you might use terms and content to differentiate from an A/B test.
And there you have it, your complete unique URL.
Then, just copy and paste that into your post or bio, and you'll be able to view it directly in Google Analytics.
Note: You might benefit from extra manipulation of your link, particularly if you're using it in your bio. Bitly is a great option to shorten and customise your link while retaining the UTM tags. You can also use platforms like Later and Linktree to get creative with your bio link.
But wait, there's more!
Now you're tracking your links, but what next?
Tracking your leads from Instagram with marketing attribution
Ok, so now you can accurately track your Instagram traffic in Google Analytics. And, if you have an eCommerce site, you'll be able to see its impact on revenue too.
But what about those businesses that drive leads for a sales team? There are thousands of B2B businesses that are dominating their niche on Instagram.
So how can they prove that channels like Instagram are having an impact on lead and revenue generation?
Marketing attribution, of course.
Marketing attribution tools like Ruler Analytics allow you to connect your website, to your customer database, and to your marketing tools.
Let's break it down.
You're tracking your links now on Instagram, which is great.
But what if someone swipes up from your Instagram story, then calls your company and becomes a lead, or even a sale?
While Instagram is generally thought to be a TOFU channel, it does support driving revenue.
If you're not completely eCommerce, or tend to see long sales cycles, then tracking the revenue impact of your Instagram is going to be tricky.
This is where Ruler comes in.
Once your tracking links are set up, Ruler can monitor each and every visitor to your website and collect data on their session data and referrals.
When that user becomes a lead, Ruler will pass all of the data held on that user over to your CRM, or whatever you're using to monitor leads and customers.
Ruler will continue to work in the background, monitoring that user and their activity.
When that user then closes into a sale, Ruler will scrape the revenue data assigned to it and fire it back into your marketing dashboards.
That means, you'll be able to look in Google Analytics and see a direct revenue number against your Instagram and Stories channels. And even better, you'll be able to assign revenue by campaign too.
So for any campaign terms you use, you'll be able to view revenue against them directly in Google Analytics.
What better way to highlight the impact of your Instagram?
Wrapping up
And there you have it. How to track every URL used on your Instagram. Now, you'll be able to track Instagram traffic directly in GA and understand how the platform is working to drive or influence sales.
Learn more about tracking offline conversions like phone calls, form submissions and more, with our FREE Offline Conversion Tracking eBook. Or, if you would like to see Ruler in practice, and find out how to take the guesswork out of your marketing reports, book a demo with us.