Want to incorporate Google's call-only ads but not sure where to get started? Our complete guide will walk you through what call-only ads are, how to get more calls and even some hot tips for getting more out of your campaigns.
Now more than ever, it's essential to have an accessible business. With web visitors increasingly going mobile, you want to be present where prospective customers need you most. And when mobile users are so on the go, a phone call tends to be the easiest and fastest way to connect.
According to Think with Google, 60% of smartphone users contacted a business directly using the search results such as the "click to call" option in 2019. So, you can see how important calls are to mobile users. And that translates to ads too.
Let's break it down. We've included a handy contents table for you to skip to the section that's most relevant to you. So, whether you're new to call-only ads, or you're just trying to understand how to drive more calls through your campaigns, we've got you covered.
What Are Call-Only Ads?
Call-only ads on Google are displayed to mobile device users only. Instead of providing a URL for a web user to click on, they instead click to call your business directly.
Here's an example of how they look:
Google Ads call-only ads include the following pieces of information:
Business name
Phone number
Website URL
Approx 80-character description field
However, the URL is for display only. Unlike traditional ads where clicks direct users to a specific webpage, call-only ad clicks initiate a phone call.
Call-only ads can also be expanded with certain extensions:
Location extensions
Structured snippet extensions
Callout snippets
Call-only ads are set up to display only when a business is open. So, don't worry. You won't be facing call charges when you've shut up shop for the evening.
Set Up Call Conversion Tracking Before Getting Started
All good ad campaigns start with proper tracking. And as lead and revenue tracking experts, we couldn't write a blog about call only ads without explaining how to properly track your calls first.
Imagine this.
You've set up your call-only ad and on day 1 you drive 10 new calls. That's a great start. But on any normal day, you usually receive 1 to 2 inbound calls.
How can you then differentiate the calls driven by your PPC call-only ad?
Well, you know the answer. Proper tracking.
You can set up call tracking directly in Google Ads. But this data isn't anything to brag about.
While you can see the number of inbound calls driven directly by your PPC advert, you can't see what resulted from those ads.
Did any of those 10 calls convert into a sale?
Well in Google Ads, you just won't know.
Invest in marketing attribution software to properly track your inbound calls. Not only can you track the number of calls by campaign, you can also see which of those calls resulted in a sale, and how much revenue was generated.
Note: Just a friendly reminder that we're a marketing attribution solution that can help you to track not just your call-only ads, but also your content marketing, email marketing and so much more.
Find out more about what we do by reading up on marketing attribution and how it can help you close the gap between your leads and revenue.
How to Set Up Call-Only Ads
Now for the good stuff. Setting up call-only ads in Google Ads is simple with the right instructions.
You have all the necessary tracking in place, so now it's time to drive some calls to your business.
To get started, head to your Google Ads dashboard.
Click Ads in the type list, then select Call-only ads.
Click Add call-only ad.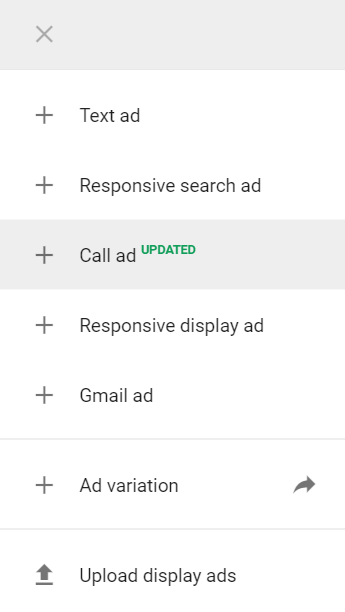 Select the campaign and ad group for the ad, and click Ok.
Add relevant information in the edit panel, including the phone number and description.
Enable 'Call Reporting' if you wish to collect data on your ad's performance.
Under 'Conversion action', you can choose to count calls as conversions. We recommend doing this alongside your proper call tracking (mentioned above!).
How to Get More Calls from Google Ads
Well the first step to drive more calls from Google Ads is to set up call-only ads.
The second step is to optimise your campaigns.
How do I do that, we hear you ask.
Well it's simple. Remember that marketing attribution tool we recommended you implement to make sure you're tracking any inbound leads from your ads? That very same tool can help you to optimise your campaign too.
Here's how.
Tools like ours don't just track campaigns, they track keywords.
That means if a user clicks to call you from a keyword search of 'best CRM', you'll be able to see that in your dashboard. With this level of data, you can start to understand not only which keywords are driving more calls, but even better. You'll be able to see which keywords are driving more revenue from your click-only Google ads.
4 Tips to Get More from Call-Only Ad Campaigns
When creating call-only ad campaigns, there are a few best practices you should keep in mind:
Target the right keywords
Take time to uncover the keywords that are most likely to drive calls. Look for keywords that signal a near-me or open-now intent. One good approach is to search for the keywords you're interested in on mobile and look for other companies using call-only ads.
Schedule ads to run at prime times
For restaurants, prime times may be just before lunch or around dinner. For attractions, prime time may be on Friday evening or the weekend. Determine when people are most likely to be looking to call your client businesses, and run ads during those times.
A/B test your ad copy
The character count on call-only ads is extremely limited. You get 70 characters in total across two description lines. For this reason, it's extremely important to use enticing, descriptive text, and the best way to do that is to run a few different versions to find the highest performer.
Take advantage of location targeting. If someone is looking to buy a laptop, they're probably searching for a place near them at the moment. Target ads to display in the neighbourhoods nearest to your client's businesses to decrease costs and increase the likelihood of calls.
And remember, make sure to track calls and conversions, and revise your approach as needed.
As with all forms of marketing, the most important outcome is increased revenue. If you're not using a platform that tracks how many calls lead to conversions, there will be no way to show clients that their investment in call-only ads is valuable.
Want more tips for PPC campaigns? We spoke to PPC experts to compile 8 ways to improve your PPC lead quality. Read it now. 
Conclusion
According to Marketing Land, phone calls have a conversion rate of 30 to 50 percent, while clicks have a 1 to 2% conversion rate. We know what we'd hedge our bets on!
If click-only call ads are something you're looking to try, why not test them out?
Hopefully our guide has helped you learn how to get more out of your call-only ads so you can start driving more calls, and more importantly, more revenue.